CS3361: Alternator Voltage Regulator FET Driver
Description:
The CS3361 integral alternator regulator integrate...
The CS3361 integral alternator regulator integrated circuit provides the voltage regulation for automotive, 3-phase alternators.

It drives an external logic level N channel enhancement power FET for control of the alternator field current. In the event of a charge fault, a lamp output pin is provided to drive an external darlington transistor capable of switching on a fault indicator lamp.

An overvoltage or no Stator signal condition activates the lamp output.

A STATOR Power Up feature is incorporated for systems which require power up activation by sensing the crank cycle of the starter at the stator. This eliminates unnecessary current drain when the ignition is turned on, but the car is not running. The CS3361 is available in a 14 lead SO package.
Features
Drives Logic Level Power NFET
80V Load Dump
Temperature Compensated Regulation Voltage
Shorted Field Protection Duty Cycle, Self Clearing
STATOR Power Up
Technical Documentation & Design Resources
Availability and Samples
Packages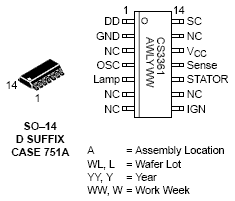 Specifications
Type: MOSFET&nbsp
Number of Drivers: 1&nbsp
Vin Max (V): -&nbsp
VCC Max (V): 27&nbsp
Drive Source/Sink Typ (mA): -&nbsp
Rise Time (ns): -&nbsp
Fall Time (ns): -&nbsp
tp Max (ns): -&nbsp
Package Type: SOIC-14&nbsp