MC7905: Linear Voltage Regulator, Negative, 5.0 V, 1.0 A
Description:
The MC7900 fixed output negative linear voltage re...
The MC7900 fixed output negative linear voltage regulator is intended as a complement to the popular MC7800 series devices. This negative voltage regulator is available in the same seven-voltage options as the MC7800 devices. In addition, one extra voltage option commonly employed in MECL systems is also available in the negative MC7900 series.

Available in fixed output voltage options from -5.0 V to -24 V, these linear voltage regulators employ current limiting, thermal shutdown and safe-area compensation - making them remarkably rugged under most operating conditions. With adequate heatsinking they can deliver output currents in excess of 1.0 A.
Features
No External Components Required
Internal Thermal Overload Protection
Internal Short Circuit Current Limiting
Output Transistor Safe-Area Compensation
Available in 2% Voltage Tolerance (See Ordering Information)
Pb-Free Package May be Available. The G-Suffix Denotes a Pb-Free Lead Finish.
Technical Documentation & Design Resources
Availability and Samples
Packages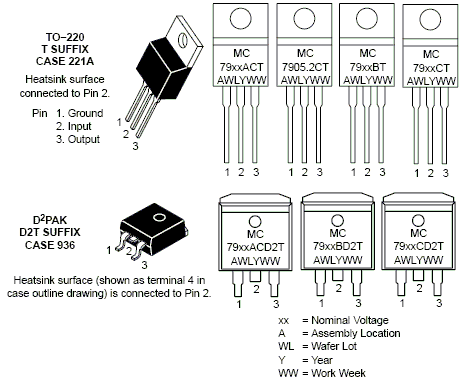 Specifications
Output: Single&nbsp
Polarity: Negative&nbsp
VO (V): -5&nbsp
IO Typ (A): 1&nbsp
VI Min (V): -6.3&nbsp
VI Max (V): -35&nbsp
VDO Typ (V): 1.3&nbsp
Iq Typ (mA): 4.4&nbsp
PSRR (dB): 70&nbsp
Noise (µVrms): 40&nbsp
Enable: No&nbsp
PowerGood: No&nbsp
Package Type: D2PAK-3&nbsp TO-220-3&nbsp