NCV7240: 8 Channel Low-Side Relay Driver
Description:
The NCV7240 is an automotive eight channel low sid...
The NCV7240 is an automotive eight channel low side driver providing drive capability up to 600 mA per channel. Output control is via a SPI port and offers convenient reporting of faults for open load (or short to ground), over load, and over temperature conditions. Additionally, parallel control of the outputs is addressable (in pairs) via the INx pins. A dedicated limp home mode pin (LHI) enables OUT1 thru OUT4 while disabling OUT5 thru OUT8. Each output driver is protected for over load current and includes an output clamp for inductive loads. The NCV7240 is available in a SSOP24 fused lead package.
Features
8 Channels - Saves board space as compared to lower count drivers.
600mA Low Side Drivers - Ideal current for driving 70 ohm relays.
16 bit SPI control - Able to report errors and is capable of daisy chain connections.
Parallel Input Pins - Allows PWM operation.
Power Up without Open Circuit Detection - Allows for power up without LED load illumination.
Low Quiescent Current - Meets stringent automotive module quiescent current requirements.
Limp Home Functionality - Automotive system feature allowing the vehicle to maintain operation with a defective microprocessor.
3.3V and 5V compatible Digital Input Supply Range - Suitible for both 3.3V and 5V microprocessor interfaces.
Fault Reporting of Open Load, Over Load, and Over Temperature - The micropressor and report unusual activity for troubleshooting and system integrity perposes.
Power On Reset - Maintains a smooth system power up and power down.
Uniform output structure of all outputs on one side of the package. - Simplifies printed circuit board layouts.
AEC-Q100 Qualified - Automotive requirement maintains site and change control.
Applications
Relay Driver
LED Driver.
Stepper Motor Driver
End Products
Automotive Body Control Unit
Automotive Engine Control Unit
Technical Documentation & Design Resources
Availability and Samples
NCV7240ADPR2G
Status:&nbspActive
Compliance:&nbspAEC Qualified PPAP Capable Pb-free Halide free
Description:&nbsp8 Channel Low-Side Relay Driver
Package&nbspType:&nbspSSOP-24
Package&nbspCase Outline:&nbsp565AL
MSL:&nbsp2
Container&nbspType:&nbspREEL
Container&nbspQty:&nbsp2500
Inventory
Market Leadtime (weeks):Contact Factory
Arrow:0
Digikey:>1K
Newark:>1K
NCV7240BDPR2G
Status:&nbspActive
Compliance:&nbspAEC Qualified PPAP Capable Pb-free Halide free
Description:&nbsp8 Channel Low-Side Relay Driver
Package&nbspType:&nbspSSOP-24
Package&nbspCase Outline:&nbsp565AL
MSL:&nbsp2
Container&nbspType:&nbspREEL
Container&nbspQty:&nbsp2500
NCV7240DPR2G
Status:&nbspActive
Compliance:&nbspAEC Qualified PPAP Capable Pb-free
Description:&nbsp8 Channel Low-Side Relay Driver
Package&nbspType:&nbspSSOP-24
Package&nbspCase Outline:&nbsp565AL
MSL:&nbsp2
Container&nbspType:&nbspREEL
Container&nbspQty:&nbsp2500
Inventory
Market Leadtime (weeks):Contact Factory
Arrow:0
Newark:>1K
Packages

Applications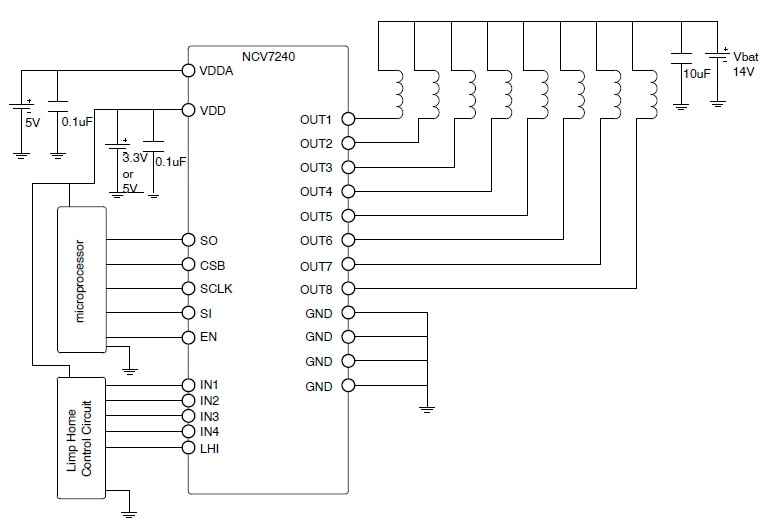 Specifications
Number of Drivers: 8&nbsp
VCC Max (V): 5&nbsp 5.5&nbsp
V(BR)GSS Max (V): 5.5&nbsp
V(BR)DSS Max (V): 36&nbsp
ID Max (A): 0.6&nbsp
rDS(on) Max (Ω): 3&nbsp
Tj Max (°C): 150&nbsp
Package Type: SSOP-24&nbsp