NCV7608: Configurable 8-Channel Driver
Description:
The NCV7608 integrates 8 output drivers configurab...
The NCV7608 integrates 8 output drivers configurable in any combination of highside, lowside, or full bridge configurations. The integrated standard Serial Peripheral Interface (SPI) allows digital control of all outputs stages and provide diagnostic fault information. In addition, four channels (CH5 to CH8) can be PWM controlled via external control input pins. Integrated clamping circuits (both in high and low side operational modes), waveshaping, positive and negative transient protection, and dedicated channel pair overtemperature shutdown circuits provide for a wide range of automotive and industrial applications.
Features
Eight Independent Configurable Drivers - Flexible Configuration
RDS(on) = 1.2 (typ @25 C) - Low Power Dissipation
5 MHz SPI Interface for Data Communication - High speed control is possible
16 Bit Frame Length, Daisy Chain Compatible - Capable of having multiple 16 Bit devices in one chain
3.3 V or 5 V Compatible - Will function with a variety of controller
PWM Inputs for 4 Outputs - Parallel control of four of the outputs
Ultra low Standby Current - Low battery current drain
Over Current Protection (Characterized to AEC Q10X 12 REV A) - Self Protects for high current conditions
High Side and Low Side Flyback Protection - Protects against abnormal load conditions
Fault Reporting - Aids in fault diagnostics
Undervoltage Lockout (VS and VCC) - Self protects for loads that will not have enough voltage to properly operate
Overvoltage Shutdown (VS) - Self protects for overvoltage conditions
Supports LED Loads - Drive capability for versatile loads
Supports Cold Cranking Operation Down to 3 V - Capable of controlling the drivers at a low battery voltage
Overtemperature Protection - Protects against thermal overload
Applications
DC Motor Management
Relay Driver
End Products
Automobiles
Industrial Equipment
Technical Documentation & Design Resources
Availability and Samples
NCV7608DQR2G
Status:&nbspActive
Compliance:&nbspAEC Qualified PPAP Capable Pb-free
Description:&nbspConfigurable 8-Channel Driver
Package&nbspType:&nbspSSOP-36 EP
Package&nbspCase Outline:&nbsp940AB
MSL:&nbsp2
Container&nbspType:&nbspREEL
Container&nbspQty:&nbsp1500
Inventory
Market Leadtime (weeks):Contact Factory
Arrow:0
Digikey:>1K
Newark:>1K
NCV7608DWR2G
Status:&nbspActive, Not Rec
Compliance:&nbspAEC Qualified PPAP Capable Pb-free
Description:&nbspConfigurable 8-Channel Driver
Package&nbspType:&nbspSOIC-28W
Package&nbspCase Outline:&nbsp751F-05
MSL:&nbsp3
Container&nbspType:&nbspREEL
Container&nbspQty:&nbsp1000
Inventory
Market Leadtime (weeks):Contact Factory
Arrow:0
Digikey:>1K
PandS:<1K
Packages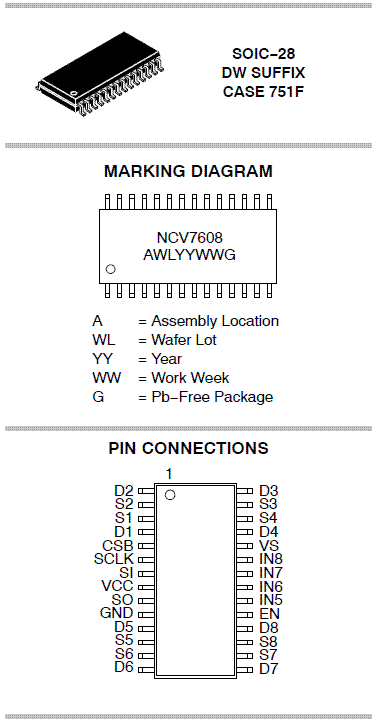 Specifications
Number of Drivers: 8&nbsp
VCC Max (V): 5.5&nbsp
V(BR)GSS Max (V): 16&nbsp
V(BR)DSS Max (V): 34&nbsp
ID Max (A): 0.35&nbsp
rDS(on) Max (Ω): 2.8&nbsp
Tj Max (°C): 150&nbsp
Package Type: SSOP-36 EP&nbsp