1N5817: 20 V, 1.0 A Schottky Rectifier
Description:
The Schottky Rectifier employs the Schottky Barrie...
The Schottky Rectifier employs the Schottky Barrier principle in a large area metal-to-silicon power diode. The Schottky Rectifier¿s state-of-the-art geometry features chrome barrier metal, epitaxial construction with oxide passivation and metal overlap contact. It is ideally suited for use as rectifiers in low-voltage, high-frequency inverters, free wheeling diodes and polarity protection diodes.
Features
Extremely Low vF
Low Stored Charge, Majority Carrier Conduction
Low Power Loss/High Efficiency Mechanical Characteristics

Mechanical Characteristics:
Case: Epoxy, Molded
Weight: 0.4 gram (approximately)
Finish: All External Surfaces Corrosion Resistant and Terminal Leads are Readily Solderable
Shipped in plastic bags, 1000 per bag.
Available Tape and Reeled, 5000 per reel, by adding a "RL" suffix to the part number
Polarity: Cathode Indicated by Polarity Band
Marking: 1N5817, 1N5818, 1N5819
Lead Temperature for Soldering Purposes: 260°C Max for 10 seconds
These are Pb-Free Devices
Technical Documentation & Design Resources
Availability and Samples
Packages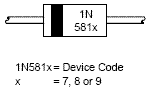 Specifications
Configuration: Single&nbsp
VRRM Min (V): 20&nbsp
VF Max (V): 0.45&nbsp
IRM Max (µA): 1000&nbsp
IO(rec) Max (A): 1&nbsp
IFSM Max (A): 25&nbsp
trr Max (ns): -&nbsp
Cj Max (pF): -&nbsp
Package Type: Axial Lead / DO-41&nbsp Axial Lead-2&nbsp