CAT6202: Voltage Regulator, CMOS LDO, Adjustable, 500 mA, 13 V
Description:
The CAT6202 is a 13 V rated 500 mA CMOS low dropou...
The CAT6202 is a 13 V rated 500 mA CMOS low dropout regulator that provides fast response time to load current and line voltage changes in an automotive environment.

CAT6202 features a low RON P-channel pass element with internal control circuitry which prevents reverse current flow should the voltage at VOUT exceed VIN as in the case of the car's battery voltage accidentally being applied to VOUT.

Thermal protection and current limiting circuitry combine to protect the pass device against faults and abuse. Current limiting is user controlled through a single resistor to ground. A fault output (

FLT

) provides an alert should an over-current event or thermal shutdown occur.

CAT6202 comes on-line gracefully even though it may be driving heavy capacitive loads thanks to built-in soft-start circuitry. Its output is protected against accidental connection to voltages greater than VIN and will not conduct current backwards into its supply.

CAT6202 is available in 8-pad 2 mm x 3 mm TDFN package.
Features
Guaranteed 500 mA Continuous Output Current
Low Dropout Voltage of 250 mV Typical at 500 mA
Input Voltage Range: 3.3 V to 13.5 V
User Adjustable Output Voltage
User Programmable Current Limit
Fault Output to Indicate Under-voltage, Current Limiting or Thermal Shutdown has Occurred
Fault Blanking: 3 ms
VOUT Withstands Battery Fault Voltages of up to 14 V
Soft-Start Prevents Current Surges
Stable with Ceramic Output Capacitor
±1.0% Output Voltage Initial Accuracy
±2.0% Accuracy Over Temperature
Thermal Protection
8 Pad TDFN Package
hese Devices are Pb-Free, Halogen Free/BFR Free and are RoHS Compliant
Technical Documentation & Design Resources
Availability and Samples
CAT6202VP2-GT3
Status:&nbspActive
Compliance:&nbspPb-free Halide free
Description:&nbspVoltage Regulator, CMOS LDO, Adjustable, 500 mA, 13 V
Package&nbspType:&nbspTDFN-8
Package&nbspCase Outline:&nbsp511AK
MSL:&nbsp1
Container&nbspType:&nbspREEL
Container&nbspQty:&nbsp3000
Inventory
Market Leadtime (weeks):2 to 4
Arrow:0
Digikey:>1K
ON Semiconductor:12,000
Applications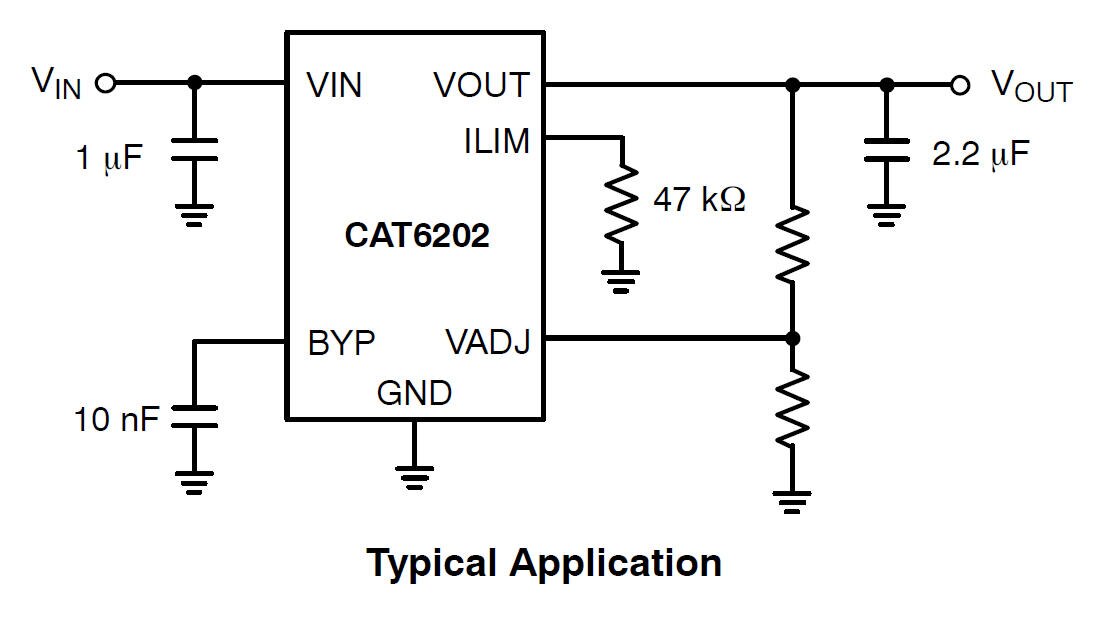 Specifications
Output: Single&nbsp
Polarity: Positive&nbsp
VO (V): Adjustable&nbsp
IO Typ (A): 0.5&nbsp
VI Min (V): 3.3&nbsp
VI Max (V): 13&nbsp
VDO Typ (V): 0.25&nbsp
Iq Typ (mA): 0.16&nbsp
PSRR (dB): 52&nbsp
Noise (µVrms): -&nbsp
Enable: Yes&nbsp
PowerGood: Yes&nbsp
Package Type: TDFN-8&nbsp