MBRF20100CT: Schottky Power Rectifier, Switch-mode, 20 A, 100 V
Description:
The Schottky Rectifier employs the Schottky Barrie...
The Schottky Rectifier employs the Schottky Barrier principle in a large metal to silicon power diode. State of the art geometry features epitaxial construction with oxide passivation and metal overlay contact. It is ideally suited for use in low voltage, high frequency switching power supplies, free wheeling diodes and polarity protection diodes.
Features
Highly Stable Oxide Passivated Junction
Very Low Forward Voltage Drop
Matched Dual Die Construction
High Junction Temperature Capability
High dv/dt Capability
Excellent Ability to Withstand Reverse Avalanche Energy Transients
Guardring for Stress Protection
Epoxy Meets UL94, VO at 1/8"
Electrically Isolated. No Isolation Hardware Required.
UL Recognized File #E69369 (Note 1.)

Mechanical Characteristics:
Case: Epoxy, Molded
Weight: 1.9 grams (approximately)
Finish: All External Surfaces Corrosion Resistant and Terminal Leads are Readily Solderable
Lead Temperature for Soldering Purposes: 260 °C Max. for 10 Seconds
Marking: B20100
Technical Documentation & Design Resources
Availability and Samples
MBRF20100CTG
Status:&nbspActive
Compliance:&nbspPb-free
Description:&nbspSchottky Power Rectifier, Switch-mode, 20 A, 100 V
Package&nbspType:&nbspTO-220-3 FullPak
Package&nbspCase Outline:&nbsp221AH
MSL:&nbspNA
Container&nbspType:&nbspTUBE
Container&nbspQty:&nbsp50
Inventory
Market Leadtime (weeks):4 to 8
Arrow:0
Avnet:<1K
Digikey:>1K
FutureElectronics:<1K
Newark:<1K
PandS:>1K
MBRF20100CT
Status:&nbspLast Shipments
Compliance:&nbsp
Description:&nbspSchottky Power Rectifier, Switch-mode, 20 A, 100 V
Package&nbspType:&nbspTO-220-3 FullPak
Package&nbspCase Outline:&nbsp221D-03
MSL:&nbspNA
Container&nbspType:&nbspTUBE
Container&nbspQty:&nbsp50
Packages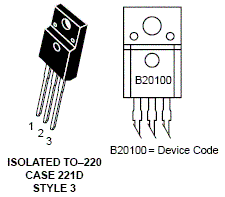 Specifications
Configuration: Common Cathode&nbsp
VRRM Min (V): 100&nbsp
VF Max (V): 0.95&nbsp
IRM Max (µA): 150&nbsp
IO(rec) Max (A): 20&nbsp
IFSM Max (A): 150&nbsp
trr Max (ns): -&nbsp
Cj Max (pF): -&nbsp
Package Type: TO-220-3 FullPak&nbsp