MC100EP140: Phase-Frequency Detector, 3.3 V, ECL
Description:
The MC100EP140 is a three state phase frequency-de...
The MC100EP140 is a three state phase frequency-detector intended for phase-locked loop applications which require a minimum amount of phase and frequency difference at lock. Since the part is designed with fully differential gates, the noise is reduced throughout the circuit, especially at high speeds. The basic operation of a Phase/Frequency Detector (PFD) is to "compare" an incoming signal (feedback) to a set reference signal. When the Reference (R) and Feedback (FB) inputs are unequal in frequency and/or phase, the differential UP (U) and DOWN (D) outputs will provide pulse streams which when subtracted and integrated provide an error voltage for control of a VCO.

The device is packaged in a small outline, surface mount 8-lead SOIC package. The output of the EP140 is 400 mV, which allows faster switching time and greater bandwidth. This device can also be used in +3.3 V systems. For proper operation, the input edge rate of the R and FB inputs should be less than 5 ns.

More information on Phase Lock Loop operation and application can be found in AND8040.
Features
500 ps Typical Propagation Delay
Maximum Frequency > 2.1 Ghz Typical
Fully Differential Internally
Advanced High Band Output Swing of 400 mV
Transfer Gain: 1.0 mV/Degree at 1.4 GHz, 1.2 mV/Degree at 1.0 GHz
Rise and Fall Time: 100 ps Typical
The 100 Series Contains Temperature Compensation
PECL Mode Operating Range: VCC = 3.0 V to 3.6 V with VEE = 0 V
NECL Mode Operating Range: VCC = 0 V with VEE = -3.0 V to -3.6 V
Open Input Default State
Pb-Free Packages are Available
Technical Documentation & Design Resources
Availability and Samples
MC100EP140DG
Status:&nbspActive
Compliance:&nbspPb-free Halide free
Description:&nbspPhase-Frequency Detector, 3.3 V, ECL
Package&nbspType:&nbspSOIC-8
Package&nbspCase Outline:&nbsp751-07
MSL:&nbsp1
Container&nbspType:&nbspTUBE
Container&nbspQty:&nbsp98
Inventory
Market Leadtime (weeks):2 to 4
Arrow:0
Newark:<100
MC100EP140DR2G
Status:&nbspActive
Compliance:&nbspPb-free Halide free
Description:&nbspPhase-Frequency Detector, 3.3 V, ECL
Package&nbspType:&nbspSOIC-8
Package&nbspCase Outline:&nbsp751-07
MSL:&nbsp1
Container&nbspType:&nbspREEL
Container&nbspQty:&nbsp2500
Inventory
Market Leadtime (weeks):2 to 4
Arrow:0
ON Semiconductor:2,500
PandS:>1K
Packages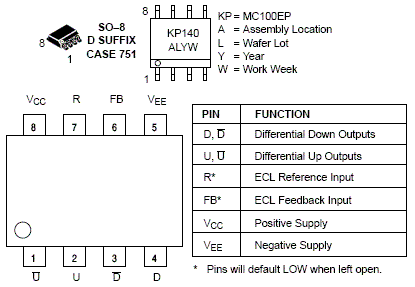 Specifications
Input Level: CML&nbsp ECL&nbsp
Output Level: ECL&nbsp
VCC Typ (V): 3.3&nbsp
Transfer Gain Typ (mV/degree): 1.2073&nbsp
CMRR Max (V): &nbsp
fToggle Max (MHz): 2000&nbsp
tpd Typ (ns): 0.475&nbsp
tJitter Typ (ps): 0.2&nbsp
tR & tF Max (ps): 200&nbsp
Package Type: SOIC-8&nbsp