MC100LVELT20: LVTTL/LVCMOS to Differential LVPECL Translator
Description:
The MC100LVELT20 is a 3.3 V TTL/CMOS to differenti...
The MC100LVELT20 is a 3.3 V TTL/CMOS to differential PECL translator. Because PECL (Positive ECL) levels are used, only +3.3 V and ground are required. The small outline SOIC−8 package and the single gate of the MC100LVELT20 makes it ideal for those applications where space, performance, and low power are at a
premium.
The 100 Series contains temperature compensation.
Features
390 ps Typical Propagation Delay
Maximum Input Clock Frequency > 0.8 GHz Typical
Operating Range VCC = 3.0 V to 3.6 Vwith GND = 0 V
PNP TTL Input for Minimal Loading
Pb-Free Packages are Available
Applications
Single ended to differential level translation.
Technical Documentation & Design Resources
Availability and Samples
MC100LVELT20DG
Status:&nbspActive
Compliance:&nbspPb-free Halide free
Description:&nbspLVTTL/LVCMOS to Differential LVPECL Translator
Package&nbspType:&nbspSOIC-8
Package&nbspCase Outline:&nbsp751-07
MSL:&nbsp1
Container&nbspType:&nbspTUBE
Container&nbspQty:&nbsp98
Inventory
Market Leadtime (weeks):4 to 8
Arrow:0
Digikey:<1K
MC100LVELT20DR2G
Status:&nbspActive
Compliance:&nbspPb-free Halide free
Description:&nbspLVTTL/LVCMOS to Differential LVPECL Translator
Package&nbspType:&nbspSOIC-8
Package&nbspCase Outline:&nbsp751-07
MSL:&nbsp1
Container&nbspType:&nbspREEL
Container&nbspQty:&nbsp2500
Inventory
Market Leadtime (weeks):2 to 4
Arrow:0
ON Semiconductor:7,500
Packages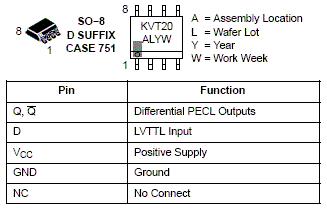 Specifications
Channels: 1&nbsp
Input Level: CMOS&nbsp TTL&nbsp
Output Level: ECL&nbsp
VCC Typ (V): 3.3&nbsp
fMax Typ (MHz): 1000&nbsp
tpd Typ (ns): 0.37&nbsp
tR & tF Max (ps): 225&nbsp
Package Type: SOIC-8&nbsp