MC33039: Motor Driver, Closed Loop, Brushless
Description:
The MC33039 is a high performance closed–loo...
The MC33039 is a high performance closed–loop speed control adapter specifically designed for use in brushless DC motor control systems. Implementation will allow precise speed regulation without the need for a magnetic or optical tachometer. This device contains three input buffers each with hysteresis for noise immunity, three digital edge detectors, a programmable monostable, and an internal shunt regulator. Also included is an inverter output for use in systemsthat require conversion of sensor phasing. Although this device is primarily intended for use with the MC33035 brushless motor controller, it can be used cost effectively in many other closed–loop speed control applications.
Features
Digital Detection of Each Input Transition for Improved Low Speed Motor Operation
TTL Compatible Inputs With Hysteresis
Operation Down to 5.5 V for Direct Powering from MC33035 Reference
Internal Shunt Regulator Allows Operation from a Non-Regulated Voltage Source
Inverter Output for Easy Conversion between 60°/300° and 120° /240° Sensor Phasing Conventions
Pb-Free Packages are Available
Technical Documentation & Design Resources
Availability and Samples
Packages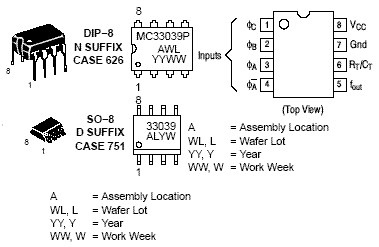 Specifications
Phase: 3&nbsp
VM Min (V): 5.5&nbsp
VM Max (V): 7.5&nbsp
VCC Min (V): 5.5&nbsp
VCC Max (V): 9&nbsp
IO Max (A): 0.02&nbsp
IO Peak Max (A): 0.02&nbsp
Control Type: DC&nbsp
Package Type: SOIC-8&nbsp