MC33160: 5.0 V, 100 mA Linear Voltage Regulator and Supervisory Circuit for Microprocessors
Description:
The MC34160 Series is a linear voltage regulator a...
The MC34160 Series is a linear voltage regulator and supervisory circuit containing many of the necessary monitoring functions required in microprocessor based systems. It is specifically designed for appliance and industrial applications, offering the designer a cost effective solution with minimal external components. These integrated circuits feature a 5.0 V/100 mA regulator with short circuit current limiting, pinned out 2.6 V bandgap reference, low voltage reset comparator, power warning comparator with programmable hysteresis, and an uncommitted comparator ideally suited for microprocessor line synchronization.

Additional features include a chip disable input for low standby current, and internal thermal shutdown for over temperature protection.

These linear voltage regulators are contained in a 16 pin dual-in-line heat tab plastic package for improved thermal conduction.
Features
5.0 V Regulator Output Current in Excess of 100 mA
Internal Short Circuit Current Limiting
Pinned Out 2.6 V Reference
Low Voltage Reset Comparator
Power Warning Comparator with Programmable Hysteresis
Uncommitted Comparator
Low Standby Current
Internal Thermal Shutdown Protection
Heat Tab Power Package
Pb-Free Packages are Available
Technical Documentation & Design Resources
Availability and Samples
Packages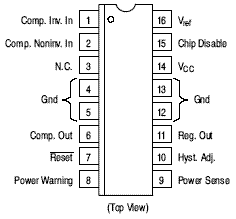 Specifications
Output: Single&nbsp
Polarity: Positive&nbsp
VO (V): 5&nbsp
IO Typ (A): 0.1&nbsp
VI Min (V): 7&nbsp
VI Max (V): 40&nbsp
VDO Typ (V): 2&nbsp
Iq Typ (mA): 1.5&nbsp
PSRR (dB): 65&nbsp
Noise (µVrms): -&nbsp
Enable: Yes&nbsp
PowerGood: Yes&nbsp
Package Type: SOIC-16W&nbsp