MC33166: Buck / Boost / Inverting Regulator, Switching, 3.0 A
Description:
The MC34166, MC33166 series are high performance f...
The MC34166, MC33166 series are high performance fixed frequency power switching regulators that contain the primary functions required for dc-dc converters. This series was specifically designed to be incorporated in buck, boost and inverting applications with a minimum number of external components and can also be used cost effectively in step-up applications.

These Buck Boost Inverting Switching Regulators consist of an internal temperature compensated reference, fixed frequency oscillator with on-chip timing components, latching pulse width modulator for single pulse metering, high gain error amplifier and a high current output switch.

Protective features consist of cycle-by-cycle current limiting, undervoltage lockout, and thermal shutdown. Also included is a low power standby mode that reduces power supply current to 36 mA.
Features
Output Switch Current in Excess of 3.0 A
Fixed Frequency Oscillator (72 kHz) with On-Chip Timing
Provides 5.05 V Output without External Resistor Divider
Precision 2% Reference
0% to 95% Output Duty Cycle
Cycle-by-Cycle Current Limiting
Undervoltage Lockout with Hysteresis
Internal Thermal Shutdown
Operation from 7.5 V to 40 V
Standby Mode Reduces Power Supply Current to 36 µA
Economical 5-Lead TO-220 Package with Two Optional Leadforms.
Also Available in Surface Mount D2PAK Package
Moisture Sensitivity Level (MSL) Equals 1
Pb-Free Packages are Available
Technical Documentation & Design Resources
Availability and Samples
Packages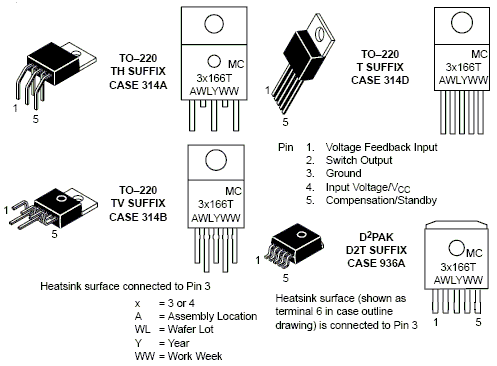 Specifications
Topology: Step-Up/Step-Down&nbsp
Control Mode: Voltage Mode&nbsp
VCC Min (V): 7.5&nbsp
VCC Max (V): 40&nbsp
VO Typ (V): 1.5 to 40&nbsp
IO Typ (A): 3&nbsp
Efficiency (%): &nbsp
fSW Typ (kHz): &nbsp
Package Type: D2PAK-5&nbsp TO-220-5&nbsp