MC74HC03A: Quad 2-Input NAND Gate with Open Drain Outputs
Description: High-Performance Silicon-Gate CMOS

The MC7...
High-Performance Silicon-Gate CMOS

The MC74HC03A is identical in pinout to the LS03. The device inputs are compatible with Standard CMOS outputs; with pullup resistors, they are compatible with LSTTL outputs.

The HC03A NAND gate has, as its outputs, a high-performance MOS N-Channel transistor. This NAND gate can, therefore, with a suitable pullup resistor, be used in wired-AND applications. Having the output characteristic curves given in this data sheet, this device can be used as an LED driver or in any other application that only requires a sinking current.
Features
Output Drive Capability: 10 LSTTL Loads With Suitable Pullup Resistor
Outputs Directly Interface to CMOS, NMOS and TTL
High Noise Immunity Characteristic of CMOS Devices
Operating Voltage Range: 2 to 6V
Low Input Current: 1mA
In Compliance With the JEDEC Standard No. 7A Requirements
Chip Complexity: 28 FETs or 7 Equivalent Gates
Pb-Free Packages are Available*
Technical Documentation & Design Resources
Availability and Samples
Packages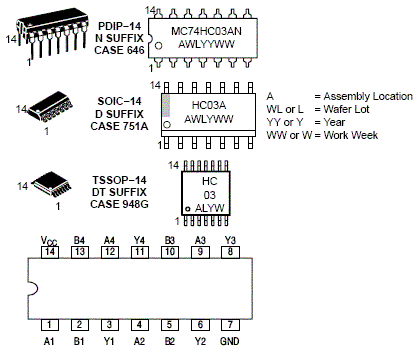 Specifications
Type: NAND&nbsp
Channels: 4&nbsp
VCC Min (V): 2&nbsp
VCC Max (V): 6&nbsp
tpd Max (ns): null&nbsp 24&nbsp
IO Max (mA): null&nbsp
Package Type: SOIC-14&nbsp TSSOP-14&nbsp