NCL30051: Offline Controller, PFC and Half Bridge Resonant Mode, for LED Lighting
Description:
The NCL30051 is a combination of a power factor co...
The NCL30051 is a combination of a power factor correction (PFC) and half-bridge resonant controller optimized for off-line LED lighting applications. The device integrates all the features needed to implement a hightly efficient and small form factor LED driver. It contains a critical conduction mode (CrM) fixed on time boost controller and a half-bridge resonant controller with a built-in 600 V high side gate driver. The half-bridge stage operates at a fixed frequency - greatly simplifying the control implementation. The output (current or voltage)regulation can be achieved by adjusting the PFC stage output voltage based on a feedback signal generated external to the controller. This device includes an enable input on the FFC feedback pin, PFC open feedback protection, and PFC overvoltage and undervoltage detectors. Other features included in the NCL30051 are a 600 V startup circuit and an adjustable frequency oscillator with a divide by 2 circuit to assure a balanced duty ratio. Controller sequencing is built-in simplying the system design.
Features
Voltage-mode CrM fixed on time PFC boost controller - Simple control scheme achieving high PF and low total harmonic distortion
PFC Open Feedback Loop Protection - Robust Fault Handling
Fixed Frequency Resonant Half-bridge Controller - High conversion efficiency with Zero Voltage Switching
600 V High Side Gate Driver - Simplifies driving external MOSFETS
Up to 600 V Startup Circuit - Reduced parts count and simplified design
Half Bridge Disable input - Simplifies PWM dimming of the LEDs
PFC Bulk Undervoltage and Overvoltage Detectors - Robust Fault Handling
Applications
High Efficiency LED Drivers and Power Supplies
Lighting Electronic Control Gear
Light Ballasts
End Products
LED Wall Packs and Wall Washers
High Performance Outdoor LED Fixtures
Low Bay LED Luminaires
High Power LED Spot Lighting
Technical Documentation & Design Resources
Evaluation/Development Tool Information
Availability and Samples
NCL30051DR2G
Status:&nbspActive
Compliance:&nbspPb-free Halide free
Description:&nbspOffline Controller, PFC and Half Bridge Resonant Mode, for LED Lighting
Package&nbspType:&nbspSOIC-16
Package&nbspCase Outline:&nbsp751B-05
MSL:&nbsp1
Container&nbspType:&nbspREEL
Container&nbspQty:&nbsp2500
Packages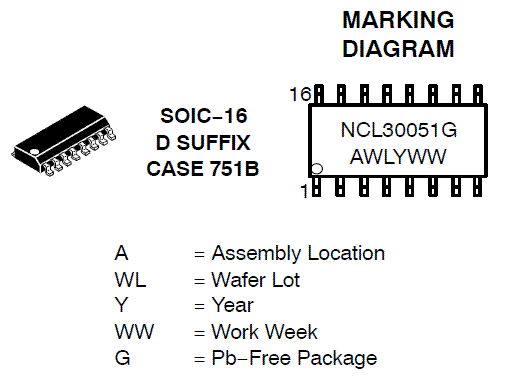 Applications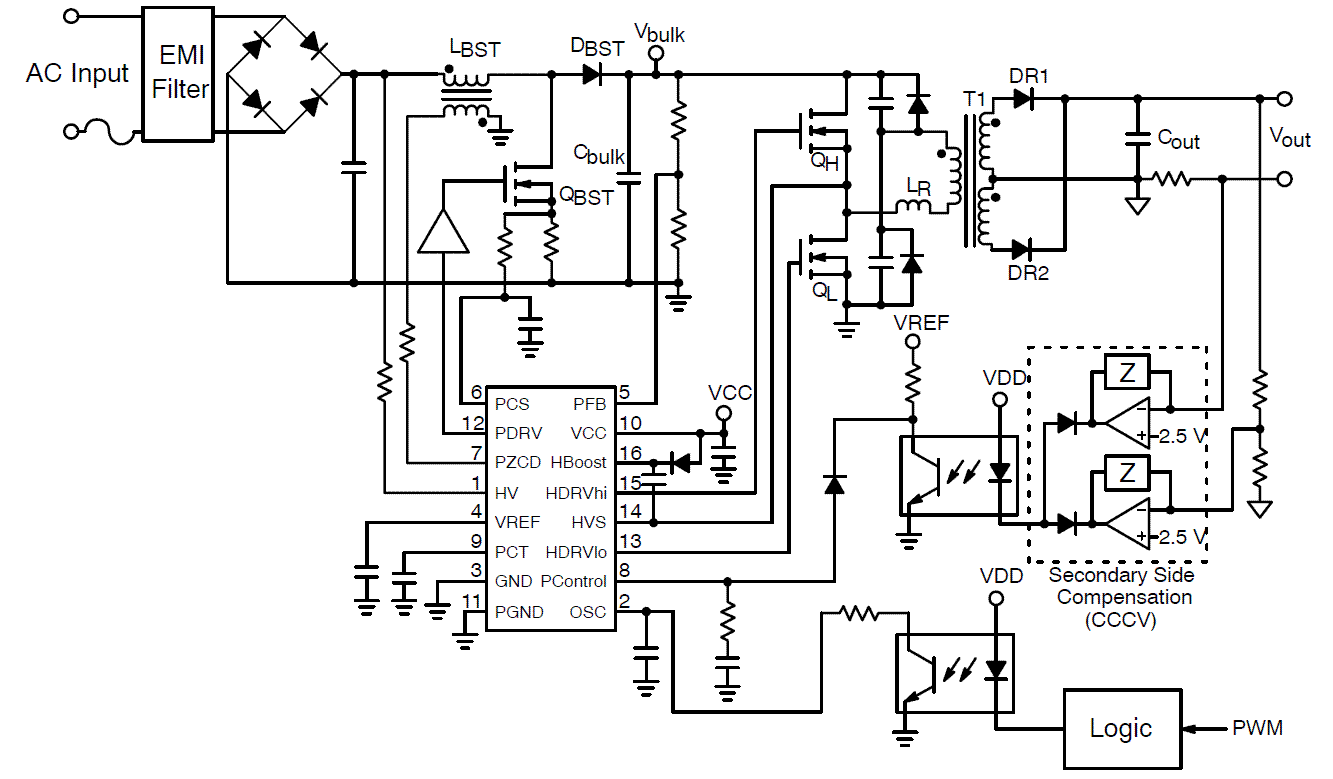 Specifications
Topology: Half-Bridge&nbsp
VI Min (V): 16.3&nbsp
VI Max (V): 600&nbsp
VO Max (V): 150&nbsp
IO Max (mA): 3000&nbsp
fSW Typ (kHz): Variable&nbsp
Package Type: SOIC-16&nbsp