NCN6001: Smart Card Interface
Description:
The NCN6001 is an integrated circuit dedicated to ...
The NCN6001 is an integrated circuit dedicated to the smart card interface applications. The device handles any type of smart card through a simple and flexible micro controller interface. On top of that, thanks to the built in chip select pin, several couplers can be connected in parallel.The device is particularly suited for low cost, low power applications,with high extended battery life coming from extremely low quiescent current.
Features
100% compatible with ISO 7816-3, EMV and GIE-CB standards
Fully GSM Compliant
Wide battery supply voltage range : 2.7 < Vcc < 5.5V
Programmable CRD_VCC supply handles 1.8V, 3V or 5V card operation.
Programmable rise and fall card clock slopes
Programmable card clock divider
Built-in Chip Select logic allows parallel coupling operation
ESD protection on card pins ( 8 kV, Human Body Model )
Supports up to 40 MHz input Clock
Built-in programmable CRD_CLK stop function handles Run or Low state.
Programmable CRD_CLK slopes to cope with wide operating frequency range
Fast CRD_VCC turn-on & turn-off sequence
Applications
E-commerce interface
End Products
POS / ATM
Pay TV
Technical Documentation & Design Resources
Availability and Samples
NCN6001DTBR2G
Status:&nbspActive
Compliance:&nbspPb-free Halide free
Description:&nbspSmart Card Interface
Package&nbspType:&nbspTSSOP-20
Package&nbspCase Outline:&nbsp9.48
MSL:&nbsp1
Container&nbspType:&nbspREEL
Container&nbspQty:&nbsp2500
Inventory
Market Leadtime (weeks):Contact Factory
Arrow:0
Avnet:>1K
Digikey:>1K
Newark:<100
PandS:>10K
NCN6001MUTWG
Status:&nbspConsult Sales Office
Compliance:&nbspPb-free Halide free
Description:&nbspSmart Card Interface
Package&nbspType:&nbspTLLGA-20
Package&nbspCase Outline:&nbsp513AC
MSL:&nbsp1
Container&nbspType:&nbspREEL
Container&nbspQty:&nbsp2500
Packages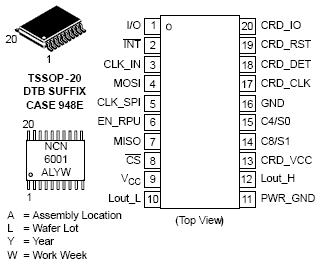 Applications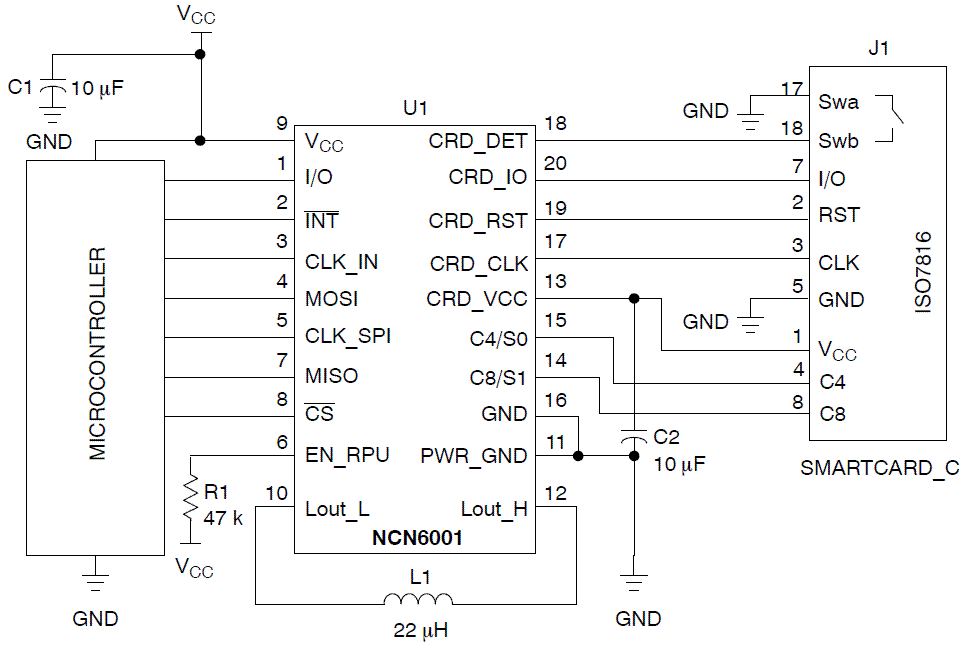 Specifications
VCC Min (V): 2.7&nbsp
VCC Max (V): 6&nbsp
IT Typ (mA): 0.5&nbsp
II(standby) Max (µA): 60&nbsp
fClock Max (MHz): 40&nbsp
Package Type: TSSOP-20&nbsp