NCP1254: PWM Controller, Current Mode, for Offline Power Supplies
Description:
The NCP1254 is a highly integrated PWM controller ...
The NCP1254 is a highly integrated PWM controller capable of delivering a rugged and high performance offline power supply in a TSOP-6 package. With a supply range up to 35 V, the controller hosts a jittered 65-kHz switching circuitry operated in peak current mode control. When the power on the secondary side starts to decrease, the controller automatically folds back its switching frequency down to a minimum level of 26 kHz. As the power further goes down, the part enters skip cycle while freezing the peak current setpoint.
To help building rugged converters, the controller features several key protective features: a non-dissipative Over Power Protection for a constant maximum output current regardless of the input voltage, two latched over voltage protection inputs - either through a dedicated pin or via the Vcc input and a dual-level auto-recover/latched overload/short-circuit timer.
The controller architecture is designed to authorize a transient peak power excursion when the current setpoint hits the limit. At this point, the switching frequency is increased form 65 kHz to 130 kHz until the peak event disappears. The timer duration is then modulated as the converter crosses a peak power excursion mode (long) or undergoes a short circuit (short).
Features
65kHz Fixed Frequency Current Mode control with 130 kHz frequency excursion - Allows peak power delivery without growing the transformer size by temporarily increasing the switching frequency
Internal and adjustable Over Power Protection (OPP) circuit - Compensates peak current for changing line conditions
Frequency Foldback down to 26 kHz and Skip-cycle in light load conditions - Optimized efficiency across the entire power range
Timer-based Auto-recovery Overload/Short-circuit protection with 100% to 25% timer reduction for short-circuit faults - Robust protection against both overload and short circuit conditions
Frequency Jittering in Normal and Frequency Foldback Modes - Softened EMI signature
Latch Input - Flexible input can be used for OVP or OTP protection
Double Vcc hiccup in fault mode - Reduced average power during fault mode
Applications
Ac-Dc adapters
End Products
Printer Power Supplies
Notebook Adapters
Technical Documentation & Design Resources
Availability and Samples
NCP1254ASN65T1G
Status:&nbspLifetime
Compliance:&nbspPb-free Halide free
Description:&nbspPWM Controller, Current Mode, for Offline Power Supplies
Package&nbspType:&nbspTSOP-6
Package&nbspCase Outline:&nbsp318G-02
MSL:&nbsp1
Container&nbspType:&nbspREEL
Container&nbspQty:&nbsp3000
Inventory
Market Leadtime (weeks):Contact Factory
Arrow:0
ON Semiconductor:15,000
NCP1254BSN65T1G
Status:&nbspLifetime
Compliance:&nbspPb-free Halide free
Description:&nbspPWM Controller, Current Mode, for Offline Power Supplies
Package&nbspType:&nbspTSOP-6
Package&nbspCase Outline:&nbsp318G-02
MSL:&nbsp1
Container&nbspType:&nbspREEL
Container&nbspQty:&nbsp3000
Packages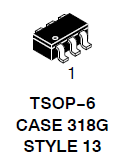 Applications