NCP1337: Controller, Quasi-Resonant Current Mode, with Overpower Compensation
Description:
The NCP1337 combines a true current mode modulator...
The NCP1337 combines a true current mode modulator and a demagnetization detector which ensures full Borderline/Critical Conduction Mode in any load/line conditions together with minimum drain voltage switching (Quasi−Resonant operation). The transformer core reset detection is done internally, without using any external signal, due to the Soxyless concept. The frequency is internally limited to 130 kHz, preventing the controller to operate above the 150 kHz CISPR−22 EMI starting limit.
By monitoring the feedback pin activity, the controller enters skip mode as soon as the power demand falls below a predetermined level. As each restart is softened by an internal soft−skip™, and as the frequency cannot go below 25 kHz, no audible noise can be heard.
The NCP1337 also features an efficient protective circuitry which, in presence of an overcurrent condition, disables the output pulses and enters a safe burst mode, trying to restart. Once the default has gone, the device auto−recovers. Also included is a bulk voltage monitoring function (known as brown−out protection), an adjustable overpower compensation, and a VCC OVP. The controller immediately restarts after any of these conditions, unless the fault timer has timed out. Finally, an internal 4.0 ms soft−start eliminates the traditional startup stress.

NCP1338 vs NCP1337: When a BO condition is applied, both controllers stop. When the BO condition is removed, NCP1337 doesn't restart if the fault timer has timed out; whereas NCP1338 always restarts (if Vcc is higher than 12 V).
Features
Valley switching/QuasiResonant Operationn - High efficiency and low EMI
Soft-skip Mode with Minimum Switching Frequency for Standby - High efficiency in light load conditions, with noise-free operation
Current-Mode with Overpower Compensation
Auto-Recovery Short-Circuit Protection Independent of Auxiliary Voltage
Overvoltage Protection
Brown-Out Protection
Two Externally Triggerable Fault Comparators (one for a disable function, and the other for a permanent latch)
Internal 4.0 ms Soft-Start
500 mA Peak Current Drive Sink Capability
130 kHz Max Frequency
Internal Leading Edge Blanking
Internal Temperature Shutdown
Direct Optocoupler Connection
Dynamic Self-Supply with Levels of 12 V (On) and 10 V (Off)
SPICE Models Available for TRANsient and AC Analysis
These are Pb-Free Devices
Applications
AC-DC Adapters for Notebooks, etc.
Offline Battery Chargers
Auxiliary Power Supplies (USB, Appliances, TVs, etc.)
End Products
Consumer Electronics (DVD Players, Set-Top Boxes, TVs, etc.)
Technical Documentation & Design Resources
Availability and Samples
NCP1337DR2G
Status:&nbspActive, Not Rec
Compliance:&nbspPb-free Halide free
Description:&nbspController, Quasi-Resonant Current Mode, with Overpower Compensation
Package&nbspType:&nbspSOIC-7
Package&nbspCase Outline:&nbsp751U
MSL:&nbsp1
Container&nbspType:&nbspREEL
Container&nbspQty:&nbsp2500
Inventory
Market Leadtime (weeks):4 to 8
Arrow:0
Digikey:>1K
FutureElectronics:>1K
Newark:>1K
PandS:<1K
NCP1337PG
Status:&nbspActive, Not Rec
Compliance:&nbspPb-free Halide free
Description:&nbspController, Quasi-Resonant Current Mode, with Overpower Compensation
Package&nbspType:&nbspPDIP-8
Package&nbspCase Outline:&nbsp626B
MSL:&nbspNA
Container&nbspType:&nbspTUBE
Container&nbspQty:&nbsp50
Inventory
Market Leadtime (weeks):2 to 4
Arrow:0
ON Semiconductor:40,300
Packages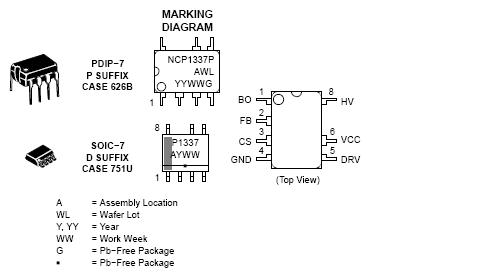 Applications