NCP4672: Dual Low Dropout Linear Voltage Regulator with Vin and Vout Voltage Detector
Description:
The NCP4672 is a dual Low Dropout (LDO) Linear Vol...
The NCP4672 is a dual Low Dropout (LDO) Linear Voltage Regulator with input voltage and output voltage detectors. This part is useful in systems where multiple voltages are required such as for core and I/O. The NCP4672 LDO Linear Voltage Regulator is very accurate at 2% over full input voltage and full load current. The NCP4672 eliminates the need for external voltage supervision due to the two built in voltage detectors. The voltage detector on the input is set to 7.0 V. The output voltage detector is for channel 1 and is set to 2.9 V. An external capacitor is used to set the duration of this reset signal. Other features include short circuit protection and thermal shutdown protection. The NCP4672 has been designed to work with a 4.7 µF output capacitor having an ESR between 0.1 ¿ and 5.0 ¿.
Features
Accuracy: 2% at Full Voltage and Load
Excellent Ripple Rejection: 70 dB @ 1 kHz
Voltage Detector for Input Voltage
Voltage Detector for Output Voltage
Programmable Delay of Reset Signal
Thermal Short Circuit Protection
This is a Pb-Free Device
Applications
Small Core and I/O Power
Consumer Equipment
Measurement Equipment
Industrial Equipment
Technical Documentation & Design Resources
Availability and Samples
NCP4672DR2G
Status:&nbspActive
Compliance:&nbspPb-free Halide free
Description:&nbspDual Low Dropout Linear Voltage Regulator with Vin and Vout Voltage Detector
Package&nbspType:&nbspSOIC-8
Package&nbspCase Outline:&nbsp751-07
MSL:&nbsp1
Container&nbspType:&nbspREEL
Container&nbspQty:&nbsp2500
Packages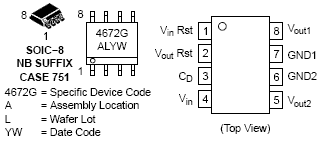 Specifications
Output: Dual&nbsp
Polarity: Positive&nbsp
VO (V): 1.8, 3.5&nbsp
IO Typ (A): 0.08&nbsp
VI Min (V): 3.8&nbsp
VI Max (V): 18&nbsp
VDO Typ (V): 0.15&nbsp
Iq Typ (mA): 1&nbsp
PSRR (dB): 70&nbsp
Noise (µVrms): 80&nbsp
Enable: No&nbsp
PowerGood: Yes&nbsp
Package Type: SOIC-8&nbsp