NCV3063: Buck / Boost / Inverting Converter, Switching Regulator, 1.5 A
Description:
This Buck Boost Inverting Switching Regulator cons...
This Buck Boost Inverting Switching Regulator consists of an internal temperature compensated reference, comparator, controlled duty cycle oscillator with an active current limit circuit, driver and high current output switch. New features include an internal thermal shutdown protection and cycle-by-cycle current limit. This series was specifically designed to be incorporated in step-down (buck) and step-up (boost) and voltage-inverting applications with a minimum number of external components. The NCV3063 is available for automotive applications. See NCP3064 for product with ENABLE feature.
Features
Operation up to 40 V Input - Flexibility to operate over a wide range of applications
Frequency operation up to 150 KHz - Reduced output capacitance and ability to use SMT inductor
Internal thermal Shutdown with hysteresis - This feature is provided to prevent catastrophic failures from accidental device overheating
Cycle-by-Cycle Current Limiting - Improved protection capability over MC34063
Excel Based Design Tool - Calculate support components and estimate performance.
Adjustable current limit - Flexibility to operate over a wide range of applications
Applications
Step-Down, Step-Up and Inverting supply applications
Battery Chargers
NCV3063 Available for Automotive Applications
End Products
Multi-Function Printers (MPF)
Technical Documentation & Design Resources
Availability and Samples
NCV3063DR2G
Status:&nbspActive
Compliance:&nbspAEC Qualified PPAP Capable Pb-free Halide free
Description:&nbspBuck / Boost / Inverting Converter, Switching Regulator, 1.5 A
Package&nbspType:&nbspSOIC-8
Package&nbspCase Outline:&nbsp751-07
MSL:&nbsp1
Container&nbspType:&nbspREEL
Container&nbspQty:&nbsp2500
Inventory
Market Leadtime (weeks):Contact Factory
Arrow:0
Digikey:>1K
FutureElectronics:>10K
Newark:>1K
PandS:>1K
NCV3063MNTXG
Status:&nbspActive
Compliance:&nbspAEC Qualified PPAP Capable Pb-free Halide free
Description:&nbspBuck / Boost / Inverting Converter, Switching Regulator, 1.5 A
Package&nbspType:&nbspDFN-8
Package&nbspCase Outline:&nbsp488AF
MSL:&nbsp1
Container&nbspType:&nbspREEL
Container&nbspQty:&nbsp4000
Inventory
Market Leadtime (weeks):17 to 20
Arrow:0
Digikey:>1K
FutureElectronics:>10K
PandS:>1K
NCV3063PG
Status:&nbspObsolete
Compliance:&nbspAEC Qualified PPAP Capable Pb-free Halide free
Description:&nbspBuck / Boost / Inverting Converter, Switching Regulator, 1.5 A
Package&nbspType:&nbspPDIP-8
Package&nbspCase Outline:&nbsp626-05
MSL:&nbspNA
Container&nbspType:&nbspTUBE
Container&nbspQty:&nbsp50
Packages

Applications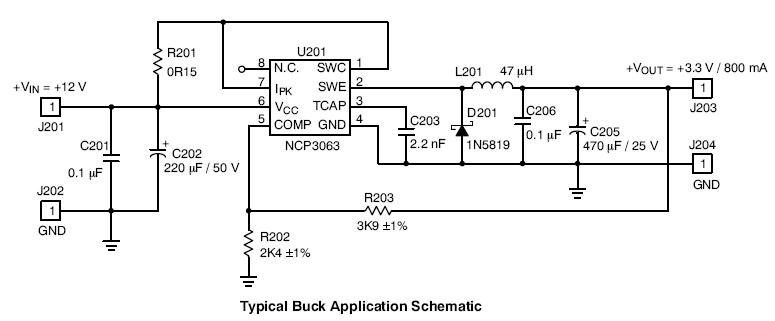 Specifications
Topology: Step-Down&nbsp Step-Up&nbsp Step-Up/Step-Down&nbsp
Control Mode: Hysteretic&nbsp
VCC Min (V): 3&nbsp
VCC Max (V): 40&nbsp
VO Typ (V): 1.25 to 40&nbsp
IO Typ (A): 1.5&nbsp
Efficiency (%): 85&nbsp
fSW Typ (kHz): Up to 200&nbsp
Package Type: SOIC-8&nbsp DFN-8&nbsp