NCV4269A: Linear Voltage Regulator, LDO, 150 mA, with Delay, Adjustable Reset and Sense Output
Description:
The NCV4269A is a 5.0 V precision micropower volta...
The NCV4269A is a 5.0 V precision micropower voltage regulator with an output current capability of 150 mA.

The output voltage is accurate within ±2.0% with a maximum dropout voltage of 0.5 V at 100 mA. Low quiescent current is a feature drawing only 240 µA with a 1.0 mA load. This part is ideal for any and all battery operated microprocessor equipment.

Microprocessor control logic includes an active reset output RO with delay and a SI/SO monitor which can be used to provide an early warning signal to the microprocessor of a potential impending reset signal. The use of the SI/SO monitor allows the microprocessor to finish any signal processing before the reset shuts the microprocessor down.

The active Reset circuit operates correctly at an output voltage as low as 1.0 V. The Reset function is activated during the power up sequence or during normal operation if the output voltage drops outside the regulation limits.

The reset threshold voltage can be decreased by the connection of an external resistor divider to the RADJ lead. The regulator is protected against reverse battery, short circuit, and thermal overload conditions. The device can withstand load dump transients making it suitable for use in automotive environments. The device has also been optimized for EMC conditions.
Features
5.0V and 3.3V +/- 2% Output with 150mA Output Current Capability - Tight Regulation Limits
Active Reset Output Low Down to VQ=1.0V; Adjustable Reset Threshold - Microprocessor power management feature, design flexibility
Fault Protection:
-40V Reverse Voltage Protection
Short Circuit Protection
Thermal overload protection - No external components required to enable protections required within any automotive applications.
Early Warning through SI/SO Leads, adjustable threshold via external resistor - Microprocessor power management feature: warns microprocessor of impending reset event or can also be used as a general purpose comparator.
AEC Q100 Qualified - Meets automotive quality requirements
Very Low Dropout Voltage
Integrated Pullup Resistor at Logic Outputs (To Use External Resistors, Select the NCV4279A)
Applications
Body and Chassis
Powertrain
Infotainment
End Products
Automotive
Technical Documentation & Design Resources
Availability and Samples
Packages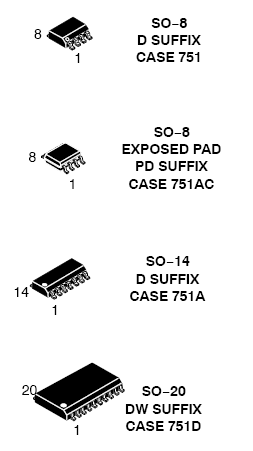 Applications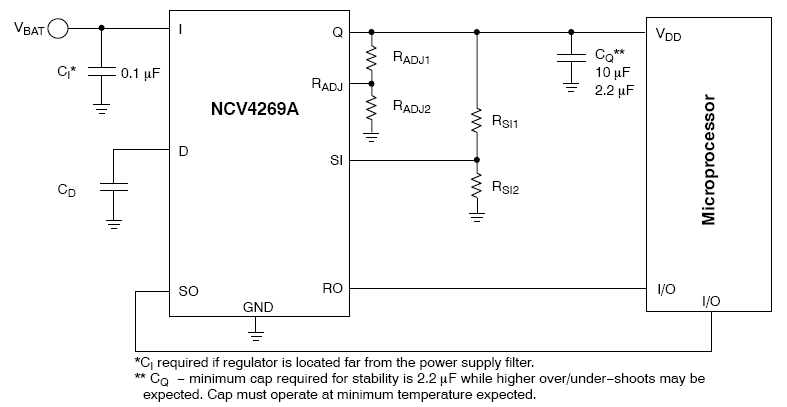 Specifications
Output: Single&nbsp
Polarity: Positive&nbsp
VO (V): 3.3&nbsp 5&nbsp
IO Typ (A): 0.15&nbsp
VI Min (V): -40&nbsp
VI Max (V): 45&nbsp
VDO Typ (V): 0.25&nbsp
Iq Typ (mA): 0.19&nbsp
PSRR (dB): -&nbsp
Noise (µVrms): -&nbsp
Enable: No&nbsp
PowerGood: No&nbsp
Package Type: SOIC-8&nbsp SOIC-20W&nbsp