NCV4275A: Linear Voltage Regulator, LDO, 450 mA, with Reset
Description:
The NCV4275A is an integrated low dropout regulato...
The NCV4275A is an integrated low dropout regulator designed for use in harsh automotive environments. It includes wide operating temperature and input voltage ranges. The output is regulated at 5.0 V or 3.3 V and is rated to 450 mA of output current.
It is pin for pin compatible with NCV4275 and can be used as replacement of this device when EMC sensitivity is critical.
It also provides a number of features, including overcurrent protection, overtemperature protection and a programmable microprocessor reset. The NCV4275A is available in the DPAK and D2PAK surface mount packages. The output is stable over a wide output capacitance and ESR range.
Features
5.0 V and 3.3 V, 2% Output Voltage Accuracy with 450 mA Output Current - Can operate with newest microprocessor.
500 mV (max) Dropout Voltage - Can operate during cranking at low input voltage.
Active Reset Output
Reset Low Down to VQ = 1.0 V - Integrated control of microprocessor power supply - lower cost and space requirements
Fault Protection
+45 V Peak Transient Voltage
-42 V Reverse Voltage
Short Circuit Protection
Thermal Overload Protection - No external components required to enable protections required within any automotive applications.
AEC-Q100 Qualified
Pin Compatible with NCV4275
Applications
Auto Body Electronics
Engine Control Unit
End Products
Automotive
Technical Documentation & Design Resources
Availability and Samples
Packages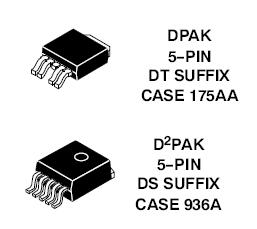 Applications