NCV4296-2C: Linear Voltage Regulator, LDO, 30 mA, with Inhibit
Description:
The NCV4296−2C is a monolithic integrated low drop...
The NCV4296−2C is a monolithic integrated low dropout voltage regulator with an output current capability of 30 mA available in the TSOP–5 package. The output voltage is accurate within ±4.0% with a maximum dropout voltage of 250 mV with an input up to 45 V. Low quiescent current is a feature typically drawing only 160 µA with a 1 mA load. With Inhibit feature, the regulator can be turned off and the device consumes less than 5 µA of quiescent current. This part is ideal for automotive and all battery operated microprocessor equipment. The regulator is protected against reverse battery, short circuit and thermal overload conditions.
Features
Very Low Dropout 65 mV typ. (250 mV max.) at 20 mA Load Current - Operates at lower input voltage during cranking.
Inhibit Input - Save battery life - quiescent current down to 5 µA max.
Protections:
60 V Transient Input Voltage
Reverse Polarity and Reverse Bias Protection
Current Limitation
Thermal Shutdown - Suitable in harsh automotive environment.
3.3 V, 5.0 V with ±4% Output Voltage Accuracy, Over Full Temperature Range, up to 30 mA
AEC-Q100 Grade 1 Qualified and PPAP Capable
Applications
Automotive
Technical Documentation & Design Resources
Availability and Samples
NCV4296-2CSN33T1G
Status:&nbspActive
Compliance:&nbspAEC Qualified PPAP Capable Pb-free Halide free
Description:&nbspLinear Voltage Regulator, LDO, 30 mA, with Inhibit, 3.3 V
Package&nbspType:&nbspTSOP-5 / SOT-23-5
Package&nbspCase Outline:&nbsp483
MSL:&nbsp1
Container&nbspType:&nbspREEL
Container&nbspQty:&nbsp3000
Inventory
Market Leadtime (weeks):Contact Factory
Arrow:0
ON Semiconductor:6,000
NCV4296-2CSN50T1G
Status:&nbspActive
Compliance:&nbspAEC Qualified PPAP Capable Pb-free Halide free
Description:&nbspLinear Voltage Regulator, LDO, 30 mA, with Inhibit, 5.0 V
Package&nbspType:&nbspTSOP-5 / SOT-23-5
Package&nbspCase Outline:&nbsp483
MSL:&nbsp1
Container&nbspType:&nbspREEL
Container&nbspQty:&nbsp3000
Inventory
Market Leadtime (weeks):Contact Factory
Arrow:0
ON Semiconductor:6,000
Packages

Applications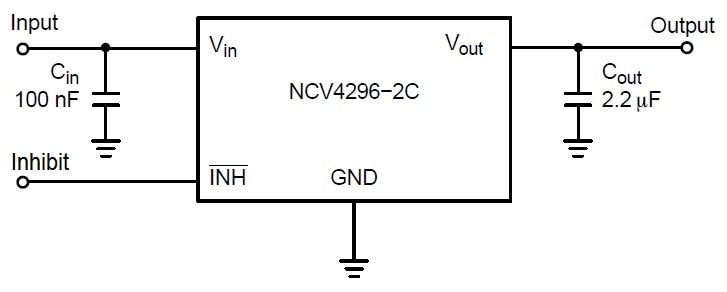 Specifications
Output: Single&nbsp
Polarity: Positive&nbsp
VO (V): 3.3&nbsp 5&nbsp
IO Typ (A): 0.03&nbsp
VI Min (V): 3.8&nbsp 5.5&nbsp
VI Max (V): 45&nbsp
VDO Typ (V): 0.065&nbsp
Iq Typ (mA): 0.15&nbsp
PSRR (dB): 60&nbsp
Noise (µVrms): -&nbsp
Enable: No&nbsp
PowerGood: No&nbsp
Package Type: TSOP-5 / SOT-23-5&nbsp