NCV663: Linear Voltage Regulator, CMOS LDO, Low Iq, 100 mA
Description:
This series of Low Quiescent Current Low Dropout (...
This series of Low Quiescent Current Low Dropout (LDO) Linear Voltage Regulators initially designed for handheld communication equipment and portable battery powered applications can be used in automotive application requiring ultra low quiescent current. It should be used as post regulation device as the product is not protected against high input transient voltages inherent to automotive battery operation.

This series features an ultra-low quiescent current of 2.5 µA. Each device contains a voltage reference unit, an error amplifier, a PMOS power transistor, resistors for setting output voltage, and protections such as current limit and temperature limit circuits.

The NCV663 has been designed to be used with low cost ceramic capacitors and requires a minimum output capacitor of 0.1 µF. The device is housed in the micro-miniature SC82-AB surface mount package. Pb-free plating options are available.
Standard voltage versions are 1.5, 1.8, 2.5, 2.7, 2.8, 3.0, 3.3, and 5.0 V.
Features
Ultra Low Quiescent Current of 2.5 uA Typical
Low Output Voltage Option down to 1.5V with +/-2% output voltage accuracy.
Temperature Range of -40C to 125C
Integrated protection: Current Limit, Thermal Shutdown
AEC Qualified
PPAP Capable
Applications
Infotainment: Satellite Radio, Navigation systems
Body ElectronicS
End Products
Automotive
Technical Documentation & Design Resources
Availability and Samples
Packages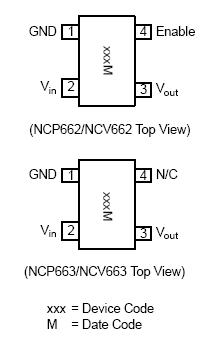 Specifications
Output: Single&nbsp
Polarity: Positive&nbsp
VO (V): 1.5&nbsp 1.8&nbsp 2.5&nbsp 2.7&nbsp 2.8&nbsp 3&nbsp 3.3&nbsp 5&nbsp
IO Typ (A): 0.1&nbsp
VI Min (V): 2.5&nbsp
VI Max (V): 6&nbsp
VDO Typ (V): 0.68&nbsp 0.5&nbsp 0.3&nbsp 0.28&nbsp 0.25&nbsp 0.23&nbsp 0.17&nbsp
Iq Typ (mA): 0.0025&nbsp
PSRR (dB): -&nbsp
Noise (µVrms): 100&nbsp
Enable: No&nbsp
PowerGood: No&nbsp
Package Type: SC-82AB-4&nbsp