NCV8184: Linear Voltage Regulator, Tracking, 70 mA, with Enable
Description:
The NCV8184 is a monolithic integrated low dropout...
The NCV8184 is a monolithic integrated low dropout tracking voltage regulator designed to provide an adjustable buffered output voltage that closely tracks (+/-3.0 mV) the reference input.
The part can be used in automotive applications with remote sensors, or any situation where it is necessary to isolate the output of your regulator.
The NCV8184 also enables the user to bestow a quick upgrade to their module when added current is needed, and the existing regulator cannot provide.
The versatility of this part also enables it to be used as a high- side driver.
Features
70 mA Source Capability - Capability to power sensors external to the automotive module.
Output Tracks within +/- 3m V - Accurate tracking for use with A/D converters.
Low Input Voltage Tracking Performance (Works Down to Vref = 2.0 V) - Fits low voltage systems.
Low Dropout (0.35 V Typ.@50 mA) - Works well during automotive cranking.
Low Quiescent Current - New automotive module requirements.
Thermal Shutdown - Protective feature.
AEC Qualified - Automotive requirement.
PPAP Capable - Automotive requirement.
Applications
Sensor Applications
Increased Regulator Capability
End Products
Automotive
Technical Documentation & Design Resources
Availability and Samples
Packages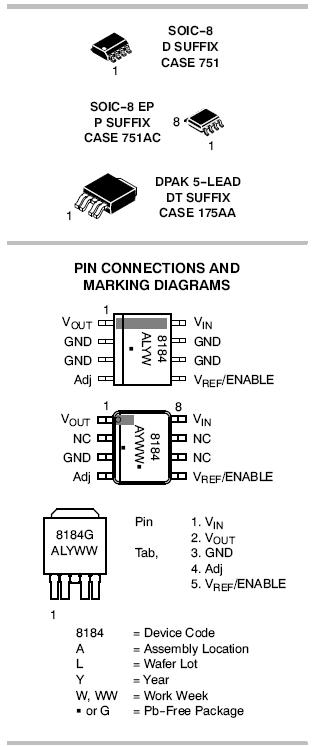 Specifications
Output: Single&nbsp
Polarity: Positive&nbsp
VO (V): Tracking&nbsp
IO Typ (A): 0.07&nbsp
VI Min (V): 0.8&nbsp
VI Max (V): 26&nbsp
VDO Typ (V): 0.35&nbsp
Iq Typ (mA): 0.05&nbsp
PSRR (dB): 60&nbsp
Noise (µVrms): -&nbsp
Enable: Yes&nbsp
PowerGood: No&nbsp
Package Type: SOIC-8&nbsp DPAK-5&nbsp SOIC-8 EP&nbsp