NCV8623: Linear Voltage Regulator, LDO, Ultra Low Noise, with On/Off Control
Description:

Housed in a DFN6 package, the NCV8623 Low Dropo...
Housed in a DFN6 package, the NCV8623 Low Dropout Linear Voltage Regulator delivers up to 150 mA where it exhibits a typical 180 mV dropout. With an incredible noise level of 25 uVRMS (over 100 Hz to 100 kHz, with a 10 nF bypass capacitor), the NCV8623 represents the ideal choice for sensitive circuits, especially in portable applications where noise performance and space are premium.
The NCP623 also excels in response time and reacts in less than 25 us when receiving an OFF to ON signal (with no bypass capacitor). Due to a novel concept, the NCV8623 accepts output capacitors without any restrictions regarding their Equivalent Series Resistance (ESR) thus offering an obvious versatility for immediate implementation. With a typical DC ripple rejection better than -90 dB (-70 dB @ 1.0 kHz), it naturally shields the downstream electronics against choppy power lines. Additionally, thermal shutdown and short-circuit protection provide the final product with a high degree of ruggedness.
Features
Very Low Quiescent Current 170 uA,(ON, no load), 100 nA (OFF, no load)
Very Low Dropout Voltage, Typical Value is 137 mV at an Output Current of 100 mA
Very Low Noise with External Bypass Capacitor (10 nF),Typically 25 uVrms over 100 Hz to 100 kHz
Internal Thermal Shutdown
Extremely Tight Load Regulation Typically -90 dB
Ripple Rejection -70 dB @ 1.0 kHz
Line Transient Response: 1.0 mV for Vin = 3.0 V
Extremely Tight Load Regulation Typically 20 mV at Iout=150 mA
Multiple Output Voltages Available
Logic Level ON/OFF Control (TTL-CMOS Compatible)
ESR can vary from 0 to 3.0 ohms
Pb-Free Packages are Available
Applications
All Portable Systems
Battery Powered Systems
Cellular Telephones
Radio Control Systems
Toys and Low Voltage Systems
Technical Documentation & Design Resources
Availability and Samples
Packages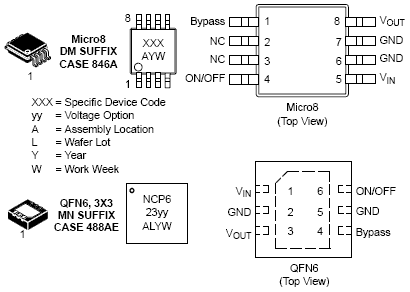 Specifications
Output: Single&nbsp
Polarity: Positive&nbsp
VO (V): 2.5&nbsp 2.8&nbsp 3&nbsp 3.3&nbsp 4&nbsp 5&nbsp
IO Typ (A): 0.15&nbsp
VI Min (V): 2.8&nbsp
VI Max (V): 12&nbsp
VDO Typ (V): 0.18&nbsp
Iq Typ (mA): 0.17&nbsp
PSRR (dB): 70&nbsp
Noise (µVrms): 25&nbsp
Enable: Yes&nbsp
PowerGood: No&nbsp
Package Type: DFN-6&nbsp