NCV8674: Linear Voltage Regulator, LDO, Very Low Iq
Description:
The NCV8674 is a precision 5.0 V or 12 V fixed out...
The NCV8674 is a precision 5.0 V or 12 V fixed output, low dropout integrated voltage regulator with an output current capability of 350 mA. Careful management of light load current consumption, combined with a low leakage process, achieve a typical quiescent current of 30 µA.
The output voltage is accurate within ±2.0%, and maximum dropout voltage is 600 mV at full rated load current.
It is internally protected against input supply reversal, output overcurrent faults, and excess die temperature. No external components are required to enable these features.
Features
5.0 V and 12 V Output Voltage Options with 2.0% Output Accuracy, Over Full Temperature Range - Perfect for monitoring new microprocessors as well as communication nodes
40 A Maximum Quiescent Current at IOUT = 100 A - Meet 100 µA max module car manufacturer ignition off quiescent current requirement
600 mV Maximum Dropout Voltage at 350 mA Load Current - Maintains output voltage regulation at low input voltage.
Wide Input Voltage Operating Range of 5.5 V to 45 V - Maintains regulation even during load dump
Internal Fault Protection
-42 V Reverse Voltage
Short Circuit/Overcurrent
Thermal Overload - Cost and space saving as no external device is required
AEC-Q100 Qualified - Meet automotive qualification requirements
Applications
Engine Control Module
Body and Chassis
Powertrain
End Products
Automotive
Technical Documentation & Design Resources
Availability and Samples
Packages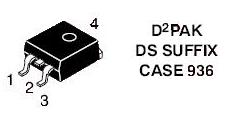 Applications
Specifications
Output: Single&nbsp
Polarity: Positive&nbsp
VO (V): 12&nbsp 5&nbsp
IO Typ (A): 0.35&nbsp
VI Min (V): 12.5&nbsp 5.5&nbsp
VI Max (V): 45&nbsp
VDO Typ (V): 0.3&nbsp
Iq Typ (mA): 0.031&nbsp 0.027&nbsp
PSRR (dB): 67&nbsp
Noise (µVrms): -&nbsp
Enable: No&nbsp
PowerGood: No&nbsp
Package Type: D2PAK-3&nbsp