NE5517: Operational Transconductance Amplifier, Dual
Description:
The AU5517 and NE5517 contain two current-controll...
The AU5517 and NE5517 contain two current-controlled operational transconductance amplifiers, each with a differential input and push-pull output. The AU5517/NE5517 offers significant design and performance advantages over similar devices for all types of programmable gain applications. Circuit performance is enhanced through the use of linearizing diodes at the inputs which enable a 10 dB signal-to-noise improvement referenced to 0.5% THD. The AU5517/NE5517 is suited for a wide variety of industrial and consumer applications. Constant impedance buffers on the chip allow general use of the AU5517/NE5517. These buffers are made of Darlington transistors and a biasing network that virtually eliminate the change of offset voltage due to a burst in the bias current IABC, hence eliminating the audible noise that could otherwise be heard in high quality audio applications.
Features
Constant Impedance Buffers
Delta VBE of Buffer is Constant with Amplifier Ibias Change
Excellent Matching Between Amplifiers
Linearizing Diodes
High Output Signal-to-Noise Ratio
Applications
Multiplexers
Timers
DolbyE HX Systems
Current-controlled Amplifiers, Filters
Current-controlled Oscillators, Impedances
End Products
Electronic Music Synthesizers
Technical Documentation & Design Resources
Availability and Samples
Packages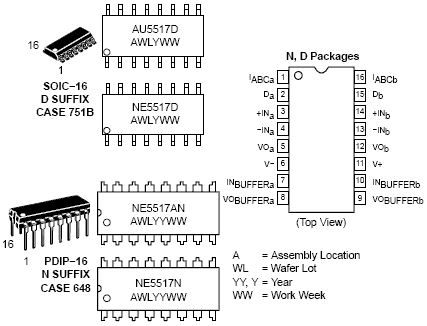 Specifications
Rail to Rail: No&nbsp
Channels: 2&nbsp
VS Min (V): -18&nbsp
VS Max (V): 18&nbsp
Iq Typ (mA): 1.3&nbsp
VOS Max (mV): 5&nbsp
GBW Typ (MHz): 2&nbsp
SR Typ (V/µs): 50&nbsp
IO Typ (mA): 0.005&nbsp
ΔVOS/ΔT (μV/C): 7&nbsp
eN (nV/√Hz): -&nbsp
Ibias Typ (pA): 400000&nbsp
CMRR Typ (dB): 110&nbsp
Architecture: Bipolar&nbsp
Temperature Range (°C): -40 to 125&nbsp 0 to 70&nbsp
Package Type: SOIC-16&nbsp