NL7SZ19: 1:2 Digital Multiplexer / Demultiplexer
Description:
The NL7SZ19 is a 1-to-2 decoder. When the outpu...
The NL7SZ19 is a 1-to-2 decoder. When the output enable (EB) is Low, the device passes data at input A to outputs Y0 (true) and Y1 (complement). The NL7SZ19 can also be used as a 1 to 2 demultiplexer. As a demultiplexer, data at input EB is routed to either Y0 or Y1 depending on the state of A. The device operates over the voltage range from 1.65 V to 5.5 V. The device is fabricated in sub-micron CMOS for high speed and fast decode times. Both inputs and outputs are in high impedance state, when supply voltage is powered down. Both inputs are tolerant of voltages up to 5.5 V, regardless of operating voltage. This device is suitable for low power decoding in a variety of applications.
Features
High-Speed Propagation Delay tPD 2.5 nS (Typ), Load 50 pF @ 5.0 V
32 mA Output Drive Capability
Power Down Impedance Inputs/Outputs in High-Z
Broad VCC Operating Range 1.65 V to 5.5 V
Surface Mount Technology SC-70, 6-Lead Packaging
OVT* on Inputs Facilitates 5.0 V to 3.0 V Translation
Pb-Free Package is Available
Applications
Cell Phones
PDAs
Digital Cameras
Video Cameras
Hand-Held Sound Devices
End Products
Cell PhonePDANotebooks
Technical Documentation & Design Resources
Availability and Samples
NL7SZ19DFT2G
Status:&nbspActive
Compliance:&nbspPb-free Halide free
Description:&nbsp1:2 Digital Multiplexer / Demultiplexer
Package&nbspType:&nbspSC-88-6 / SC-70-6 / SOT-363-6
Package&nbspCase Outline:&nbsp419B-02
MSL:&nbsp1
Container&nbspType:&nbspREEL
Container&nbspQty:&nbsp3000
Inventory
Market Leadtime (weeks):17 to 20
Arrow:0
Digikey:>1K
PandS:>1K
NL7SZ19MUR2G
Status:&nbspActive
Compliance:&nbspPb-free Halide free
Description:&nbsp1:2 Digital Multiplexer / Demultiplexer
Package&nbspType:&nbspUDFN-6
Package&nbspCase Outline:&nbsp517AA
MSL:&nbsp1
Container&nbspType:&nbspREEL
Container&nbspQty:&nbsp3000
NLV7SZ19DFT2G
Status:&nbspActive
Compliance:&nbspAEC Qualified PPAP Capable Pb-free Halide free
Description:&nbsp1:2 Digital Multiplexer / Demultiplexer
Package&nbspType:&nbspSC-88-6 / SC-70-6 / SOT-363-6
Package&nbspCase Outline:&nbsp419B-02
MSL:&nbsp1
Container&nbspType:&nbspREEL
Container&nbspQty:&nbsp3000
Packages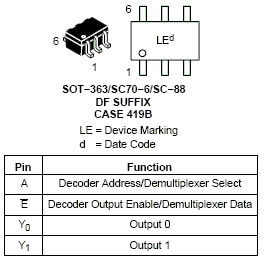 Specifications
Channels: 2&nbsp
VCC Min (V): 1.65&nbsp
VCC Max (V): 5.5&nbsp
tpd Max (ns): null&nbsp 4&nbsp
IO Max (mA): 50&nbsp
Package Type: SC-88-6 / SC-70-6 / SOT-363-6&nbsp UDFN-6&nbsp