PCA9535E: I/O Port Expander, I2C, 16-bit, Low-Power w/Interrupt
Description:
The PCA9535E and PCA9535EC devices provide 16 bits...
The PCA9535E and PCA9535EC devices provide 16 bits of General Purpose parallel Input/Output(GPIO) expansion through the I2Cbus/SMBus. The PCA9535E and PCA9535EC consist of two 8bit Configuration Input or Output selection.Input, Output and Polarity Inversion (active HIGH or active LOW operation) registers. At power on, all I/Os default to inputs. Each I/O may be configured as either input or output by writing to its corresponding I/O configuration bit. The data for each Input or Output is kept in its corresponding Input or Output register. The Polarity Inversion register may be used to invert the polarity if the read register. All registers can be read by the system master. The PCA9535E, identical to the PCA9655E but with the internal I/O pull up resistors removed, has greatly reduced power consumption when the I/Os are held LOW. The PCA9535EC is identical to the PCA9535E but with high impedance open drain outputs at all the I/O pins. The PCA9535E and PCA9535EC provide an opendrain interrupt output which is activated when any input state differs from its corresponding input port register state. The interrupt output is used to indicate to the system master that an input state has changed. The power on reset sets the registers to their default values and initializes the device state machine. Three hardware pins (AD0, AD1, AD2) are used to configure the I2Cbus slave address of the device. The I2Cbus slave addresses of the PCA9535E and PCA9535EC are the same as the PCA9655E. This allows up to 64 of these devices in any combination to share the same I2Cbus/SMBus.
Features
VDD Operating Range: 1.65 V to 5.5 V
SDA Sink Capability: 30 mA
5.5 V Tolerant I/Os
Polarity Inversion Register
Active LOW Interrupt Output
Low Standby Current
Noise Filter on SCL/SDA Inputs
No Glitch on Powerup
Internal Poweron Reset
64 Programmable Slave Addresses using Three Address Pins
16 I/O Pins which Default to 16 Inputs
Applications
Input/output Port Expansion for Extended Addressing Capability
Technical Documentation & Design Resources
Product Change Notification
Availability and Samples
Packages
Applications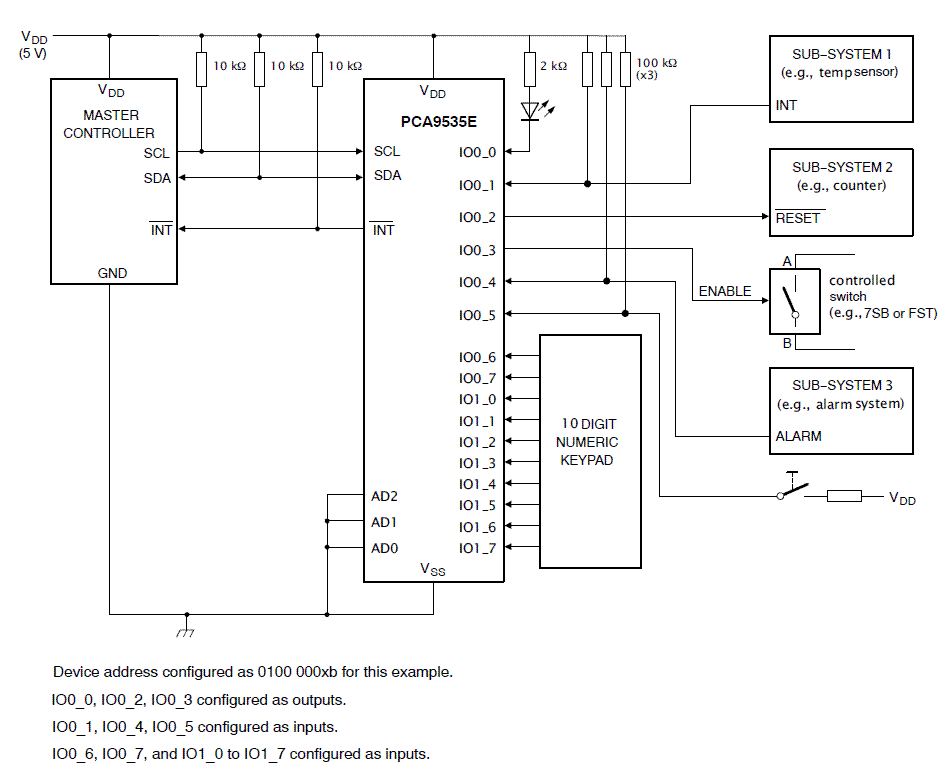 Specifications
I/O: 16&nbsp
Cascadable: 8 Slave ID Addresses&nbsp
VCC Min (V): 1.65&nbsp
VCC Max (V): 5.5&nbsp
Interrupt Output: Yes&nbsp
I/O Pullups: No&nbsp
LED Blink/PWM: No&nbsp
IO Min (mA): 25&nbsp
Package Type: TSSOP-24&nbsp QFN-24&nbsp SOIC-24&nbsp